Hi Y'all! In my growing love for the South and the culture there, I have taken quite a liking to searching for southern recipes and such. Since I am from New England, I do not have heirloom recipes for biscuits and jam, but I would love to start a legacy of my own for my future family. While I prefer healthy foods and nourishing my body with the right things, it is nice to indulge in classic comforts sometimes. Today is a frigid day in New Hampshire, so let's cozy up and talk biscuits for a moment and then swoon over some inspired kitchen items that I have collected in my virtual travels.
A couple of weeks back, I tried making biscuits and jam from scratch for the first time and they came out very well! I used this recipe from Mrs. Paula Deen and they were, as expected, very rich and delicious. In searching for a biscuit recipe to pair with today's post, I came upon this recipe and I could relate to the story that was entwined with it. Now I am not sure if authentic southern ladies have secret tips and tricks up their sleeves when it comes to biscuits, but those are things that I will hopefully learn from experience.
In keeping with the theme of cozy and classic comforts, I have put together a collection of kitchen items that conjure up warm and delightful feelings for me. I hope you enjoy!
A set of nesting biscuit cutters in precious packaging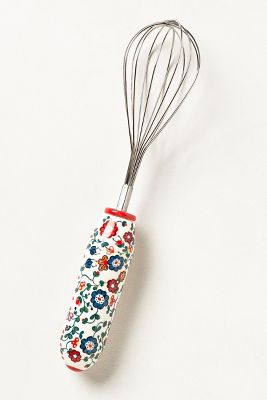 This whisk with a fun floral-patterned stoneware handle.
A vintage apron pattern (I might treat myself after this spending freeze)
Classic pyrex nesting bowls (I think all of the ladies in my family own a set of these bright bowls!)
 A step-by-step for handmade tea towels, inspired by family recipe cards
Now I am in the mood to make another batch of biscuits! If you have a delicious recipe for either biscuits or another comfort food that you'd like to share, I'd love to hear it in the comments! I hope you have a wonderful Wednesday 🙂
Love,
Kyla